2014 July Wrap-Up
Hey Everyone!


Here is my list of books I've read for the month of July this year.
One Is Enough by Love, Julianne Neville was a quick love story like any other manga one shots, but Boys Love! I am obsessed with Yaoi and the like, even if there is no plot or story behind it, I still swoon over it. Yes, I know, sounds crazy, but I just can't resist. The only thing that can put me off is horrible illustrations, then I'll mentally place a 'KEEP AWAY' tag over it. This manga, however, had a decent, simple storyline and great visuals. Cannot go wrong with that 'cause sometimes less it more.
Scandalous Summer Nights by Grace Callaway was my first anthology ever! I cannot stress how much I ADORE historical romance. The Victorian and Regency and what I've mostly read. But reading this was a great gateway into highlander territory. I completely fell for the Scottish brogue I've read about in these wonderful stories. Just great. The dialogue from that place in time was so authentic and the way society was in that time period is completely different, almost a totally different world compared to how things are now. That fantastical feeling of something historical, but not particularly all fiction is what makes the content utterly rich.
Yes, Chef! by Lisa Joy was something different but not quite. To be honest, I'm not that into chic-lit because first of all, I am a girl so I know what girls go through daily, and I know that we get annoying, I even annoy and irritate myself at times. I just couldn't shake the annoying-ness away while reading this story. A bunch of girls and a lot of complaining. I also don't like that as a reader, the author reveals something the main character knows absolutely nothing about. I usually am able to turn a blind eye and still enjoy the rest of the story unfold, but this time did not work out too great. I knew the moment the people made eye contact. It was literally described in the book how huge the moment was and the main character went along their own business completely obtuse. It irked me because throughout the book, it made its way the be the center of attention many of times and it just would not click. Do not get me started on the antagonist, it was well played and disgusted me to no end. In the end, I was glad to have finally finished it and survived through everything that happened so I think it was overall alright.
Mastering the Marquess by Lavinia Kent was the epitome of Historical BDSM. Just right. It reminded me of Fifty Shades of Grey, but maybe it was 'cause I had just finish watching the live stream online and again on TV, and replayed the trailer for the umpteenth time. Besides, this story is way better anyways. I highly recommend this lovely story!
The Real Thing by Cassie Mae
was such a fun read, I had a blast getting to know the characters and experience their friendship and sparkling romance. Nice writing style, I adjusted automatically and flew through this wonderful story. I will upload my Blog Tour post with my review and an excerpt, as well as a giveaway on Aug. 26th so save the date!
What A Lady Craves by Ashlyn Macnamara
was a very intriguing story and a unique story plot. I wasn't
that
sucked in but was very much entertained and never felt put off. Again, historical romance is something I absolutely love, so I couldn't not read it. I'm uploading the Blog Tour post on Aug. 18th along with my review and a giveaway so be on the look out!


There were a few that I had started but didn't get to finish....yet!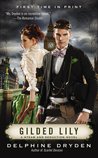 Gilded Lily by Delphine Dryden was something I don't know much about since I only read a few pages before I ended up reading Scandalous Summer Nights. I knew that this was a bit historical and kind of dystopian, I think. Although, once I began reading I knew that there was something missing, like something that was common knowledge but I didn't know what it was and I felt uncomfortable to continue to read. I also found out that it is the third book of a series. Thus explaining my uneasiness with reading the book. I was in the middle of the story and had no idea! Hopefully I'll be able to pick this back up once I read the first two in the series, but until then, it'll move back down my TBR list.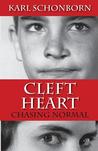 Cleft Heart: Chasing Normal by Karl Schonborn
is really and truly an amazing read as far as I've read. It's not that long, compared to other books I've read and/or currently still reading, but I wanted to take my time, and thoroughly dissect this book because I was interested in someone having a cleft. I have a cousin that was born a few months prior with a cleft. To be honest I didn't know how to react or any of the medical terminology behind it (which is sad for me because I had medical terminology classes in high school) I wanted to learn more and see from that person's perspective how they portray things in daily life. Hopefully I'll finish this sometime soon. This is just too great.
This month wasn't a very progressive time pertaining to the amount of books I've read, but I think it balances out with the many giveaways, blitz, and blog tours, I've had and are being scheduled at the moment. I still think things are looking up though. And hopefully next month I'll be able to buckle down and read around what I normally read a month. Until next time!
Happy Reading :]