Blog Tour: Review: The Last Thing by Briana Gaitan **GIVEAWAY**
From Tenne to Cali, ain't nothin' better than a small town girl experiencing the fast life with the hunky Hollywood star.


Publication: September 2, 2014
Plagued by past mistakes in both love and life, Quinn Bardot is in a bad place. With nowhere else to turn, she escapes to LA clinging to the promise of a fresh start.
Chase Crowley is known for being selfish and unbelievably persistent. All he's ever wanted is to become a successful actor. But now that he is about to have it all, he finds that something is still missing. Money and fame isn't what he expected.
After a fervent encounter, the two of them are thrown into a situation that neither is prepared for. Can Quinn extinguish her fears and let Chase in? Can Chase learn to put someone else's needs before his own?
The Last Thing is a novel all about love, Hollywood, and accepting what life throws at you even if it is the last thing you want.
(This is a New Adult Romance novel & contains language & adult situations. Not recommended for readers younger than 17)
***The Last Thing is a stand alone book with NO cliff hanger ending. It is book one in the series.***
・:*:・。,★゜・:*:・。,★゜・:*:・。,★゜・:*:・。,★゜・:*:・。,★゜・:*:・。,★゜・:*:・
★

★

★

★
My rating: 4 of 5 stars
The story structure was great:
small town girl + dark past -> fast life + wild cousin actor-> party like a rockstar + hot actor = one night of bliss
This starts the camera rolling for Small-town Quinn Bardot and Hollywood actor Chase Crowley.
Things start off a bit slow at first, then before you know, things get kicked into high gear, literally.
The relationship between them is real rocky and fierce. The past and career have great impact with how they try to live their lives and sets them back here and there. Working together is the only option.
Every character had an issue and played their part very well in the story. Many antagonists to keep track of, so I think its safe to say that I wanted to punch and strangle everybody at a certain point, but at any other given time, they were just too good at acting so they persuaded me to lighten up a bit. The real situations and emotions these characters experience and feel make the story that much more heartfelt and relatable.
Although Chase's mom wasn't presented a lot, she would be my favorite character because she did a whole bunch in getting Chase where he is now, and I admire her strength and perseverance in how she raised him alone, as well as when she'd talk sense into him when he did something wrong.
The writing was good, stayed on point and allowed the reader to visualize everything clearly.
Overall, this was a lovely story about going through hell and back. I cannot wait to see what Gaitan has in store for the next book.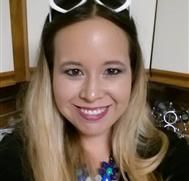 Briana Gaitan grew up in the South, but calls herself a geek at heart. She is a blogger,author,and fangirl who loves Star Wars, Star Trek, and Jewelry (bet you never thought you'd hear those three things in a sentence together) For fun, she loves watching any show on the SyFy channel, relaxing with her family, reading, and listening to indie music (sometimes all at the same time). Briana loves to write stories where there are no limits to the imagination. She is also the co-author of the fantasy Ethereal Underground series.


Connect with Briana Briana's other work